Promach Machinery Sdn Bhd
45, Jalan Mutiara Emas 5/16,
Taman Mount Austin,
81100 Johor Bahru,
Johor, Malaysia.

+607-3528355
+607-3529355

+607-3525355
Our Products
EXAC Brand CNC Lathe --- CNC Lathe Machine CK6166 ---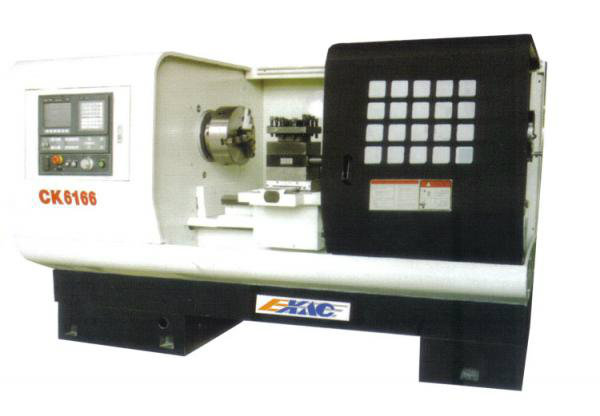 The machine adopts ISO International Code, Keyboard Manual Date input, it is also provided with program of power cut-off protection and the functions of automatic diagnosis,and with Rs232 interface.
Longitudinal and cross feeds are effected by ball leadscrews.
Either vertical or horizontal 4-station or 6-station tool post organg tools can be selected. The post is located on precision contrite gears with a high repeated positioning accuracy.
Both chuck and tailstock are supplied with hydraulic or manual type.
The surface of the bedways is supersonic frequency handened and precision ground with a long service life.
The spindle bore size is 105mm. the spindle system is high in the rigidity and accuracy.
Items
CK6166 /CK6266
Max. swing over bed
ø660mm
Max. work-piece length
750/1000/1500/2000/3000mm
Max. swing over slide
ø430mm
Max. cross travel (X)
365mm
Principal Axis Head Type
D8
Spindle bore
ø105mm
Cone hole's diameter and taper of spindle axis hole
ø 113 1: 20
Steps of spindle speed(manual)
Variable
Rang of spindle speed
433-1300 rpm (high)
20-150 rpm (low)
Rapid feed for axis Z
10m/min
Rapid feed for axis X
8m/min
Min. input
0.001mm
Tool post stations
4-ways, 6-ways or gang tools
Size of tool shank
32*32mm
Tailstock sleeve dia.
ø75
Tailstock sleeve travel
150mm
Max. traverse
150mm
Taper of tailstock quil
M.T.NO.5
Power of main motor
11KW
Power of cooling pump
75W
Overall dimensions (mm)
2250/2500/3000/3500* 1250* 1580
Net weight
2800/3100/3700/4300/5300